Sustainability Incubator  provides the back up for ethical & sustainable food sourcing worldwide.

Marrying science and technology with business and human rights knowledge, we  support industry-led initiatives.
We offer services and projects which build strength in seafood products.  With short task cycles of 3, 6 and 12 months and flat fee charges, our services are powered by user-demand to save you money.   We are  independent and we serve independents.  We respect the unique identity of every company and organization we serve.
APPROACH
Learn the full story behind the food.
Support suppliers to get on the same page and source materials with the same principles,
Continuous monitoring.
For global food buyers, global principles are great, but success means making things work locally.  Vendors operate in different cultural and regulatory environments.  Many are small businesses with their own struggles.  Working with the Sustainability Incubator, you will have the right questions to pose to vendors to build accountability and conformity with your company's targets and the right approach to inspire trust.  Sustainability Incubator does the homework beforehand, from researching the fishery and reaching out to its scientists and managers to mapping the entire product supply chain and running the risk scenarios based on verifiable public evidence.  We will strengthen the product by closing gaps between buyer needs and seller realities and between sustainability goals and the actual operating environment and community.
WHO WE ARE
We put the right team together for each task through a network model of 30+ talented contractors worldwide.
The Sustainability Incubator is pleased to offer fishery improvement project support and secretariat functions worldwide.  The Labor Safe Screen is now available through Trace Register for continuous monitoring of food products for elevated risk of association to labor risks.  It is a rigorous and reliable seafood risk calculator, developed with support from Humanity United, the Freedom Fund, and the winner of the Partnership for Freedom grand prize to rethink supply chains.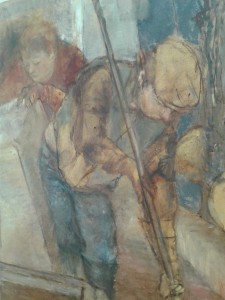 Featured Projects in 2017
The Hawaii longline fleet is developing a suite of measures for crew security, including a universal contract, code of conduct, and workplace principles, with guidance from Sustainability Incubator and the US Department of Labor.
Sustainability Incubator and Trace Register are building the Labor Safe Digital Certificate inside TR's food traceability software.
Simplot Australia hired us to screen the social accountability of an imported product of concern.  The findings are positive and will help the company to reduce risk perceptions around the product and move on to the next product of concern.
Gadre Marine Export of India retained our services to launch a fishery improvement project for India threadfin bream (surimi).
Confremar and Pier Fish hired us to support their efforts to improve the Peru Mahi-mahi fishery.
Silver Dollar Seafood hired us to support their efforts to improve the New England silver hake fishery.
Odyssey Seafood hired us to support its efforts to improve the Barents Sea crab fisheries.
Pier Fish hired us to support its efforts to improve the New England ocean perch fishery.
Pontchartrain Crab of Louisiana hired us to support its efforts to improve the Yucatan crab fishery in Mexico.
Japan's Ocean Policy Research Institute retained our services to prepare a white paper on policy to address IUU fishing (Sasakawa Peace Foundation).
Ocean Outcomes hired us to develop an online risk calculator for seafood to look into progress combating illegal fishing worldwide, and using the same risk based approach Interpol uses to fight transnational fishing crime.
Monterey Bay Aquarium, Seafish and the Sustainable Fisheries Partnership hired us to help them to develop a global fisheries risk assessment program for social responsibility.  See: SWSS: Social responsibility tool launched to determine risk in seafood supply – SeafoodSource.com, February 3, 2016
IN THE NEWS
OO HOO we won the GRAND PRIZE!:
–Technology competition hosted by the Partnership for Freedom. Announced by President Obama September 2012, the Partnership for Freedom is a public-private partnership to spur innovative solutions to human trafficking challenges.  Partners include Humanity United, the Department of Justice, the Department of Health and Human Services, the Department of Housing and Urban Development, the Department of State, and the Department of Labor. Private efforts are supported by Steven Spielberg's Righteous Persons Foundation, Goldman Sachs' 10,000 Women Initiative, the Ray and Dagmar Dolby Family Fund, and a growing list of private donors. All funding for prizes is provided by private donors.
Up Close with Team… Sustainability Incubator & Trace Register Partnership for Freedom, March 16, 2016
Solving Slavery in Seafood, well not exactly Civil Eats Editorial by Maisie Ganzler, March 11, 2016
POLICIES:
Privacy & Confidentiality: Maintaining the confidentiality of all matters concerning a client's projects and use of services is a serious matter to the Sustainability Incubator team and guaranteed. Wherever requested the Sustainability Incubator team shall be pleased to offer additional technical safeguards.
Protecting Proprietary Work and Intellectual Property:  The owner of information and value produced from our projects and services is the client who pays for it.  The Sustainability Incubator will not share information or products and services with competitors to our clients.  Inquiries from competitors about sharing products and services owned by our clients must be directed to the client directly. We will not broker our clients' products and services.