This past week I attended a worksho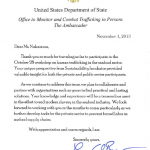 p on trafficking in the seafood sector co-hosted by the US State Department and Humanity United. At the Sustainability Incubator we've put a team together to develop a screen for import seafood products.  The project is underway and it was a privilege to introduce it in Washington DC.
A group of people working to solve this issue were part of the workshop.  It was a pleasure to meet Ambassador CeDBaca who knew his stuff and was on his game.  An honor to be a part of it.